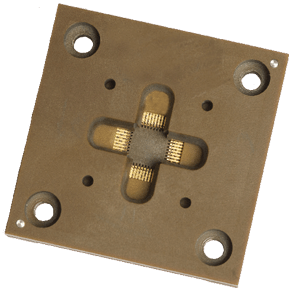 Leaded ROL® 200KR (Kelvin-Ready)
The Johnstech Leaded ROL® 200KR Kelvin-Ready Contactor provides test engineers with unprecedented test objective versatility for their leaded devices. When populated with only force contacts, it has all the high performance features of the industry-leading, standard Leaded ROL® 200.
But its Kelvin-Ready design accommodates field configurable sense contacts to be used for any given I/O, enabling precision Kelvin measurements and test system monitoring feedback loops to improve a wide variety of test objectives.
Wait, there's more! All of these advantages come without the requirement to narrow load board traces like other Kelvin technologies do. Standard size load board traces will helps to minimize manufacturing expenses while maintaining production test reliability.
Solid Force Contact and Dual Touch S
If you would like a copy of the Maintenance & Inspection Guide for this product, please contact info@johnstech.com. You also may contact your regional sales representative or distributor as well.
Solid Force Contact and Dual Touch Sense Design
The Leaded ROL®200KR guarantees a perfect, high current, low resistance connection every time. Its design is a unique combination of our traditional high current solid Leaded ROL® 200 Contact (the Force) and a dual touch, flexible Sense Contact that surrounds the Force on both sides. This design ensures a good Kelvin connection regardless of device variations.
Self Cleaning Wipe Action
Two self cleaning features ensure that the Leaded ROL®200KR delivers the lowest and most repeatable Kelvin contact resistance available on the market today. The Force Contacts include the oxide removal wipe action of Johnstech's patented ROL® technology, which automatically prevents surface debris build-up on the Contact tip. In addition, the Force and Sense work in combination to remove debris between the two Contacts. These inherent wipe functions provide long Mean Time Between Assists (MTBA) and Contact life, lowering the overall cost of test.
Field Configurable Design
With its unique configurable feature, the Leaded ROL®200KR Contactor lowers overall acquisition cost and provides the ultimate in customer flexibility and operatingvalue. The "Kelvin Ready" design allows you to configure and reconfigure your Contactor for standard contacting, "Selective Kelvin" or full Kelvin testing. Parts can be tested with both Kelvin and non Kelvin requirements.
Leaded Series Grounding Options
RTH or STH – Contacts in Housing
The standard grounding for most Johnstech contactors utilize contacts, either S-shaped (STH) or ROL® shaped (RTH) contacts configured in the Torlon housing directly beneath the center of the device package ground pad. Johnstech self-cleaning wipe technology provides improved MTBA (mean time between assists) and lower ground inductance.
Insert Technologies
---
In addition to ground contacts in the contactor housing, Johnstech offers ground inserts that can be removed from the contactor housing itself and interchanged as application requirements change. These ground inserts are used for both grounding and thermal requirements.
---
RCI or SCI – Contacts in Copper Insert
This insert configuration utilizes multiple contacts in a metal insert to meet the low ground inductance and thermal requirements of the most demanding applications. Available with either S contacts (SCI) or with ROL® contacts (RCI).
---
Other Grounding Options
Other grounding options are available upon request.
Contact your Johnstech representative.