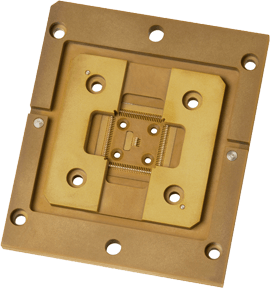 Leaded ROL® 400
The Leaded ROL® 400 utilizes Johnstech's patented ROL® technology, widely-known for it's excellent electrical performance and proven mechanical reliability. The Leaded ROL® 400 Contactor is ideally suited for high-volume testing of Analog, and Mixed Signal devices, and is offered in two Contact configurations developed specifically for the unique challenges and different device platings.
If you would like a copy of the Maintenance & Inspection Guide for this product, please contact info@johnstech.com. You also may contact your regional sales representative or distributor as well.
Features & Benefits (0.5 Pitch)

Frequency
5.4GHz Matte Tin; 5.8GHz NiPdAu
Pitch
≥ 0.4mm
Temperature
-40°C to 155°C
Current Carrying Capability @ 100%
4.9A Matte Tin; 3.4A NiPdAu
Production Test
The "rolling contact" design of the Leaded ROL®400 Contactor is especially well-suited to Production test providing:
Consistent Contact Resistance
Optimized Electrical Performance
Higher First Pass Yield
Prolonged Load Board Life
Less Frequent Cleaning
Increased MTBA (Mean Time Between Assists)
Prolonged Load Board Life
Loadboard compatibility with Leaded Series 2mm
Simple Maintenance & Rebuilding
Improved OEE (Overall Equipment Efficiency)
Lower Overall Cost of Test
Characterization
Johnstech Contactors are unsurpassed for Manual Device Evaluation, Lab Testing, Prototyping, and Characterization
Designed to test to 5.4GHz.
Reliable and Repeatable Results.
Lab performance correlates to Production Test Floor.
Robust Manual Actuator Life of 10k+ insertions.  
Leaded Series Grounding Options
RTH or STH – Contacts in Housing
The standard grounding for most Johnstech contactors utilize contacts, either S-shaped (STH) or ROL® shaped (RTH) contacts configured in the Torlon housing directly beneath the center of the device package ground pad. Johnstech self-cleaning wipe technology provides improved MTBA (mean time between assists) and lower ground inductance.
Insert Technologies
---
In addition to ground contacts in the contactor housing, Johnstech offers ground inserts that can be removed from the contactor housing itself and interchanged as application requirements change. These ground inserts are used for both grounding and thermal requirements.
---
RCI or SCI – Contacts in Copper Insert
This insert configuration utilizes multiple contacts in a metal insert to meet the low ground inductance and thermal requirements of the most demanding applications. Available with either S contacts (SCI) or with ROL® contacts (RCI).
---
Other Grounding Options
Other grounding options are available upon request.
Contact your Johnstech representative.