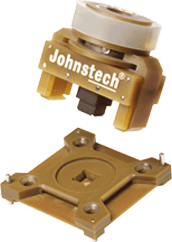 Pad Series Manual Actuator – DL-VCMA Plus™
The Double-Latch Vertically Compliant Manual Actuator (DL-VCMA) Plus™ features improved ergonomic, thermal, electrical and mechanical performance to help lower your cost of test.
If you would like a copy of the Maintenance & Inspection Guide for this product, please contact info@johnstech.com. You also may contact your regional sales representative or distributor as well.
Features/Benefits
Simple, One-Handed Operation
Actuator latches onto contactor and engages package automatically when knob is turned.
New more ergonomic easy-grip knob for easier and more productive operation.
Vertical Actuation of Contacts
More consistent package contact
Improved coplanarity
Reduced X-Y movement on package
Versatile Leadbacker
 Vertically Compliant- one leadbacker can be used for a variety of package thickness
Better Airflow to Package
Center holes in leadbacker and knob ensure better temperature control
Specifications
Operating Temperature: 
-55°C to 155°C