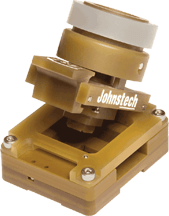 Pad Series Manual Actuator – SL-VCMA
The Single-Latch Vertically Compliant Manual Actuator (SL-VCMA) features improved ergonomic, thermal, electrical and mechanical performance to help lower your lost of cost.
If you would like a copy of the Maintenance & Inspection Guide for this product, please contact info@johnstech.com. You also may contact your regional sales representative or distributor as well.
Features/Benefits
Single-Latch Clamshell Design
Provides simple latching and actuation
Latches before engaging package
Turning knob actuates device
Vertical Actuation of Contacts
More consistent package contact
Improved coplanarity
Reduced X-Y movement on package
Versatile Leadbacker
Vertically Compliant- one leadbacker can be used for a variety of package thickness
Easy to replace when changing between various QFN and DFN Packages
Better Airflow to Package
Center holes in leadbacker and knob ensure better temperature control
Specifications
Material:
Ultem®
Life: 
10,000+ insertions

Operating Temperature: 
-55°C to 155°C
Compatible Housings: 
35.4 x 43.7mm (Multitest 99xx)  
38.1 X 38.1mm (Seiko-Epson)