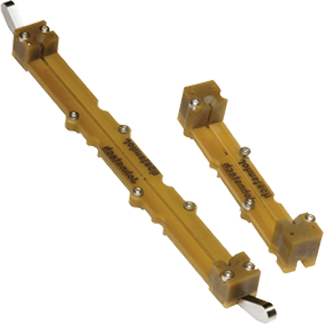 Edge 400a
Johnstech's patented Edge Technology has been enhanced to meet the testing challenges of today's low voltage (1.8v & 1.5v), high-speed memory modules. The Edge 400a utilizes a modular design for easier component configuration/replacement and improved Warp Module handling capability, yet provides the same Johnstech hallmark of excellent electrical performance and mechanical reliability. The catalog of Edge 400a standard reference designs, developed to JEDEC and Handler interface specifications, has been added into the SelecTest® Program for faster quoting and lead/delivery times. Custom and multi-site (8, 16 & 32+) options are also available. For increased efficiency with lower costs, choose the Edge 400a for your next Memory Module test.
If you would like a copy of the Maintenance & Inspection Guide for this product, please contact info@johnstech.com. You also may contact your regional sales representative or distributor as well.
Production Test
The Edge400a lowers your Overall Cost of Test with these features and benefits:
Superior Electrical Performance
Robust Mechanical Design
Configurable & Replaceable Components
(Alignment Towers, Guide Rails, Contacts, Elastomers,Voltage Keys, Ejector Levers)
Longer Contactor Life/Component Life
Low, Consistent Contact Resistance
High First Pass Yield
Less Frequent Cleaning & Maintenance
Increased MTBA (Mean Time Between Assists)
Improved OEE (Overall Equipment Efficiency)
Characterization
Edge 400a Contactors are ideal for Module Evaluation, Lab Testing, Pre-Product Proto-typing and Characterization.
Consistent, reliable and repeatable results
Lab Test results correlate 100% to Production Test performance
Configurable from Manual to Automated Test