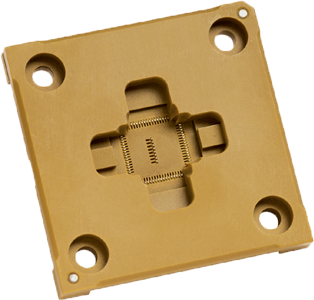 Leaded ROL® 200KR2 Kelvin-Ready
The Johnstech Leaded ROL® 200KR2 Kelvin-Ready™ Contactor provides test engineers with unprecedented test objective versatility for their pad devices. When populated with only force contacts, it has all the high performance features of the industry-leading, standard Leaded ROL® 200 Contactor.
But it's Kelvin-Ready™ design that accommodates field configurable sense contacts to be used for any given I/O, enabling precision Kelvin measurements and test system monitoring feedback loops to improve a wide variety of test objectives. Test engineers are now using Kelvin for improved characterization and removing it when their devices go to production.
All of these advantages come without the requirement to narrow load board traces like other Kelvin technologies do. Standard size load board traces helps to minimize manufacturing expenses while maintaining production test reliability.
Features & Benefits (0.5 Pitch)

Frequency
34.1GHz Force Contact; 3.0GHz Force + Sense Contact
Pitch
≥ 0.5mm
Temperature
-40°C to 155°C
Current Carrying Capability @ 100%
1.8A Force Contact; 0.8A Sense Contact